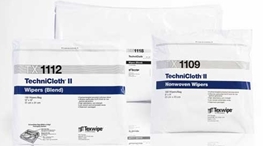 ISO 6-10 (Clean)
ISO 14644-1 is the international standard for airborne particulate contamination levels in cleanrooms. In the operation of cleanrooms, many factors in addition to airborne particulate cleanliness must be considered in the design, specifications, operations and control of the controlled environment.
ISO 6-10 (Class 1000 and below in former FED STD 209E) represents a clean controlled environment and as such great care must be taken to ensure that all cleaning supplies that are introduced into this environment do not significantly contribute to the expected particulate burden.
Texwipe offers a full range of dry wipers suitable for ISO 6-10 Critical Environments. These include Cotton-Polyester Blended Non-Woven wipers which combine the high sorption of cotton with the durability and cleanliness of polyester. Our TechniCloth and VersaWipe series of cleanroom wipers are available in a variety of sizes and packaging options for every application.
Texwipe products recommended for ISO 6-10, Clean Environments are: