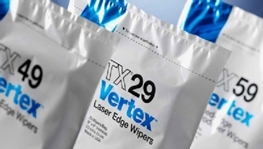 Dry Wipers
THE LEADER IN WIPER MANUFACTURING
From creating the world's first lint-free wiper in 1964 to the recent announcement of our latest revolutionary technology behind the Vertex™ Wipers product family, Texwipe leads all industries in contamination control.
To maintain our leader status, we committed to investments in technology, innovation and creativity to consistenly manufacture cutting-edge, state-of-the-art products.
Our history speaks for itself. We have consistently supplied the highest quality, most consistent cleanroom wipers - from Vectra® processed, sealed-border wipers to Technicloth® nonwoven blends, Texwipe produces superior products.
WIPER OPTIONS
We engineered a variety of products, fabrics and sizes to meet virtually any application. Vertex™ Wipers - utilizing cutting-edge, revolutionary technology, a variety of fabrics is available for applications where absolute clean is absolutely required.
Vectra® Process Sealed-Border Wipers - Ultra-clean, sealed-border wipers for the most critical environments
Sealed-Border Synthetic Wipers - Large and specialty wipers for the most critical environments
Sterile Wipers - Developed to clean aseptic cleanrooms, without compromising the sterile nature of those environments
Blended Nonwoven Wipers - Hydroentangled, polyester/cellulose blends for use in areas where moderate contamination control is required
Synthetic Wipers - Cut, laundered and cleanroom packaged wipers for critical environments
Specialty Wipers - A variety of unique wipers custom-engineered to address specific cleaning applications
Wondering which wiper is right for your specific need?
Review and compare by clicking on the chart below:
Dry Wipers available for the follow ISO standards.