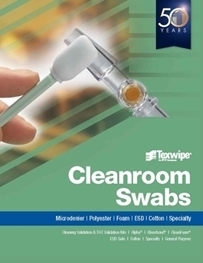 Cleaning Validation Series
Engineered to deliver consistent and accurate sample recovery for cleaning validation for both specific (HPLC, UV-Vis, IMS) and nonspecific (TOC) analytical methods. The swabs are effective with a wide range of diluents. TX714K is also available in the TOC Cleaning Validation Kit. Trademarked green handles ensure your cleaning validation rests in safe hands.
Texwipe's Low TOC Alpha® Swab Series is made from the cleanest 100% polyester knit materials. These swabs are further cleaned using a proprietary process to make this Series suitable for use in Total Organic Carbon (TOC) analysis as part of a cleaning validation protocol. Precision-manufactured, every swab is constructed to exacting and consistent tolerances without the use of adhesives for superior performance. Lot coded for traceability and quality control.
Low TOC Alpha® Swab - cleaned to a level of <50µg/L TOC. This minute level makes this swab the ideal tool for use in Cleaning Validation of equipment used in the manufacture of APIs, excipients and drugs.
Features & Benefits
Certified Low TOC level (<50 µg/L, <50 ppb) ensures consistency in swab background contribution 
Double layered, double knit polyester head entraps contaminants in the knit structure during sampling This allows maximum contaminant collection and release into the diluent to provide for excellent recovery rates
Notched, break-away handle allows the head to be placed into the vial with minimal handling and contamination
100% polypropylene handle ensures no additional contaminants are introduced and provides excellent chemical resistance
Two sizes available for sampling different sites with different requirements
Autoclavable for use in sterile environments and processes